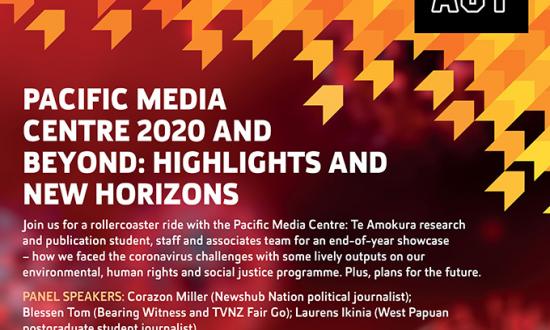 Join us for a roller-coaster ride with the Pacific Media Centre : Te Amokura research and publication student and staff team for an end-of-year showcase – how we faced the coronavirus challenges with some lively outputs on our environmental, human rights and social justice programme. Plus, plans for the future.
December 1, 2020, 9am-12noon, WG224A
GUEST SPEAKERS include Corazon Miller, Political Reporter, Newshub Nation. An AUT graduate, she returned to New Zealand after two years working as a freelancer in London, including at BBC World Service. Previously she was a reporter for The New Zealand Herald where she reported on a range of social issues, including homelessness, housing inequality, diversity and human rights.
MC: John Pulu, Tagata Pasifika (also an AUT graduate and a mentor of the founding group of students at PMC)
More information TC:

RSVP:
communicate@aut.ac.nz
The event on PMC Facebook: https://www.facebook.com/events/1482937758569894