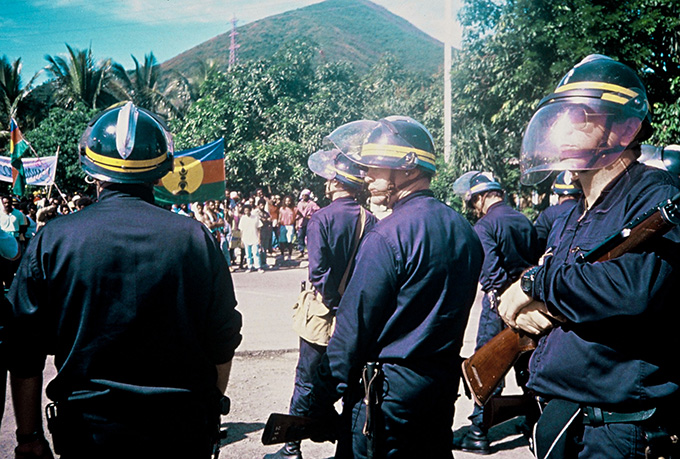 Publication month
February
Publisher
Zed Books/Pacific Media Centre/Asia Pacific Network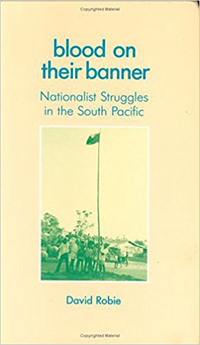 Blood on their Banner: Nationalist Struggles in the South Pacific
by David Robie
Image: French riot police confront Kanak protesters at Mont Ravel in Noumea, 1984. © David Robie
"As Robie makes clear in this eloquent book, the South Pacific is far from pacific." - Ross Fitzgerald, The Sydney Morning Herald, September 29, 1990 (Australia)
"I have read all of the Robie books I ordered. They are all excellent and deal with a neglected area of the world - the Pacific Small Island States. I have ordered the books now because I plan to teach a course at post graduate level on Decolonisation and Self Determination in the Post-Globalisation Era: Lessons from the Pacific."  - Clarence Dias.
David Robie is a New Zealand author, journalist and media educator specialising in Asia-Pacific affairs. He is founding director of the AUT Pacific Media Centre and editor of Pacific Scoop, Asia Pacific Report, Pacific Media Watch and PMC Online. He was on board the Greenpeace ship Rainbow Warrior bombed by French secret agents in 1985 and his book about that fateful voyage to the Marshall Islands is called Eyes of Fire. Mekim Nius: South Pacific media, politics and education. A sequel in 2014, Don't Spoil My Beautiful Face: Media, Mayhem and Human Rights in the Pacific (Little Island Press), are among his many other books. David's media blog is Cafe Pacific.

Dr Robie was awarded New Zealand's 1985 Media Peace Prize for his reporting of the voyage and the subsequent sabotage of the Greenpeace vessel.
Swedish language edition

Philippine edition

Amazon Books