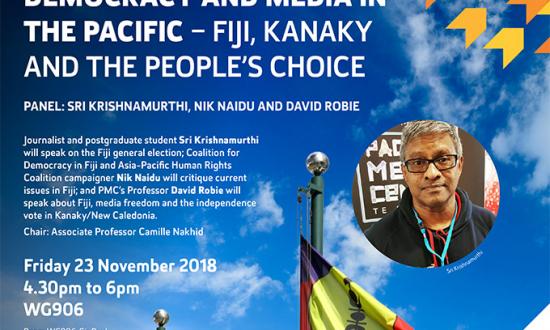 FEATURED PANEL: SRI KRISHNAMURTHI, NIK NAIDU AND DR DAVID ROBIE
Journalist and postgraduate student Sri Krishnamurthi will speak on his recent experiences in Fiji with the Wansolwara team covering the pre-election and election issues.

Long time Coalition for Democracy in Fiji and Asia-Pacific Human Rights Coalition campaigner Nik Naidu will critique current issues in Fiji.

PMC's Professor David Robie will speak about Fiji, media freedom (recent USP journalism awards) and the independence vote in Kanaky/New Caledonia.

Sri Krishnamurthi was in Fiji to prepare a series of pre-election reports during the mid-semester break. This was his first time back in his homeland for three decades since he was forced to leave in the wake of the 1987 military coups. One of the highlights of his trip was interviewing SODELPA leader Sitiveni Rabuka, the man who staged the first two coups and ushered in Fiji's coup culture. The irony is that Fiji's two major political parties, SODELPA and FijiFirst, are now both led by coup leaders.
Who: Sri Krishamurthi, Nik Naidu and Dr David Robie: Postgraduate digital media student and journalist; Coalition for Democracy in Fiji campaigner; and the PMC director.
Chair: Associate Professor Camille Nakhid, chair of the PMC Advisory Board
When: Friday 23 November 2018, 4.30-6pm 

Where: WG906, Sir Paul Reeves Building, Auckland University of Technology
City Campus
Contact: Dr David Robie
Sri's Fiji portfolio: International Journalism Project