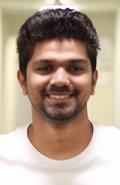 Bearing Witness climate project 2018
Blessen Tom is a on the Bearing Witness climate change International Journalism Project in 2018.
Blessen is a postgraduate student in the School of Communications at Auckland University of Technology.

He completed his Bachelors and Masters in Literature and is pursuing his studies in digital media.
He is passionate about visual storytelling and documentaries. He directed two short films and a drama, and is currently working on a mini documentary series for YouTube.
Blessen Tom's stories on PMC Online