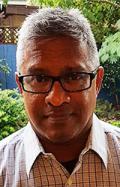 Pacific Research 2018 project journalist
Sri Krishnamurthi is the Pacific Media Centre's 2018 NZ Institute for Pacific Research journalist.

Originally from Fiji, Sri has worked in the media as a journalist and in communications in New Zealand for more than 20 years.

Due to his Pasifika identity, Sri has always had a strong connection with, and a deep interest in, what is happening in the Pacific Region.
Sri is currently a student in the Postgraduate Diploma in Communications (Digital Media) course at AUT. He also has an MBA (Massey University). 
Sri  has worked as a journalist (primarily at the now-defunct New Zealand Press Association) and in communications in a variety of fields. He has worked in both the private and public sectors, including: Northland Inc. (the Northland Economic Development Agency), with an Iwi (Ngatiwai) organisation, New Zealand District Health Boards, the Ministry of Pacific Island Affairs and as press secretary for a Minister of the Crown.
"The media landscape has changed with the advent of the digital age, but the fundamentals of working as a journalist, a public relations practitioner, or in communications, require the same inherent skills they always have - albeit with some enhancements.

"This opportunity with the Pacific Media Centre and its partnership with the NZ Institute for Pacific Research is going to allow me to unearth a treasure trove of studies being done in the Pacific region by a range of exceptional academics and others, and to communicate that work to a much wider audience."
Sri's articles on NZ Institute for Pacific Research's Lali blog

Sri's articles on PMC Online

Sri's articles on Asia Pacific Report