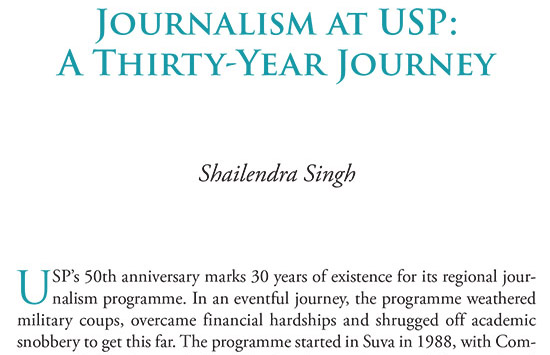 The University of the South Pacific's 50th anniversary marks 30 years of existence for its regional journalism programme. In an eventful journey, the programme weathered military coups, overcame financial hardships and shrugged off academic snobbery to get this far. The programme started in Suva in 1988, with Commonwealth funding, and a handful of students to its name. It has produced over 200 graduates serving the Pacific and beyond in various media and communication roles. USP journalism graduates have produced award-winning journalism, started their own media companies and localised various positions at regional organisations once reserved for expatriates.
See also Robie, D. (2004). Mekim Nius: South Pacific media, politics and education. Suva: University of the South Pacific Book Centre.
Singh, Shailendra (2018). Journalism at USP: A Thirty-Year History. In Leckie, Jacqueline (editor), A University for the Pacific, 50 Years of USP (pp. 201-203). Suva: University of the South Pacific, 240 pp. ISBN 978-982-98199-1-8.