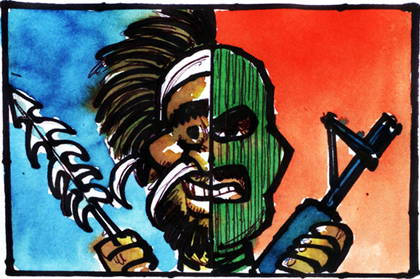 MELBOURNE (Radio Australia's Pacific Beat / Pacific Media Watch): A new report on Pacific media freedom says the most serious cases of media freedom violations in the Pacific in the past year occurred in West Papua.

The report by the Auckland-based Pacific Journalism Review says repression in the Indonesian-ruled territory has now also reached the news media.

It says violence against journalists in West Papua has replaced censorship in Fiji as the most urgent media freedom issue in the region.

Presenter: Geraldine Coutts
Speaker: Associate Professor David Robie, director, Pacific Media Centre

ROBIE: But there are very good networks of sources of information and there is also a major media  freedom organisation in Indonesia, the Alliance of Independent Journalists, which has a very strong chapter in West Papua and feeds information very much to international media freedom organisations, because it's not only Papuan journalists that face such repression, but it's also Indonesian journalists working in the area.


COUTTS: Alright, can you just give us some examples of what's actually happening, the conditions under which the journalists are now working?



ROBIE: Well, there was a big focus on the troubles in West Papua, in fact really since the early part of August and, of course, last week, at the American-owned Freeport mine, there has been a shooting of protesters. The mine workers were protesting over the working conditions of the mine, but that was really a focus on the general sort of situation that journalists actually have to report on.



Our report largely dealt with the year which would normally have ended about July, but because of the major situation in West Papua at the time, we also included August. But essentially in the past year, there've been two killings of journalists, five abductions or attempted abductions, 18 assaults, including the stabbing of a journalist by two people on a motorbike and so on.

And there have been repeated cases of intimidation and aggression against journalists and then, of course, there's the general pattern of censorship by civil and military authorities.

In West Papua, not only the general sort of situation facing journalists, such as criminal libel, but there is a crime of makar, or subversion, which is a concern for journalists too.



COUTTS: So that's on a day-to-day basis and what about the public at large, are they similarly being affected?



ROBIE: Yes, I mean that's really a microcosm, if you like, of the broader situation. At the moment, there's the third Papuan People's Congress that just opened yesterday in Jayapura and there's a general mood of dissension right through Papua.



COUTTS: And how did you conduct your research Dr Robie?



ROBIE: There is basically a network of people who have contributed to this report. Alex Perrottet, who is main co-author, is Pacific Media Watch contributing editor. But we actually had quite a number of people that contributed to this report and they're named, including Nick Chesterfield, who is from the West Papua Media network. He's the editor there.



COUTTS: And the most recent incident was a couple of arrests by Indonesian authorities in Jayapura for being in possession of material that featured the banned West Papuan Morning Star flag of independence?



ROBIE: Yes, and that's a constant sort of threat against all Papuans. In fact, I believe there's been a call not to raise the Morning Star flag at this Papuan Congress this week, so it'll be interesting to see what happens during that period.



COUTTS: Well, it's a rather large report, West Papua obviously features. What countries did you look at?



ROBIE: Well, we looked at most of the Pacific region with the exception of the American territories, but I think it's the most comprehensive report that's actually been on media freedom in the Pacific. It was a 39-page report, but it's focused largely on the Pacific Island Forum countries, including Australia and New Zealand, of course, but largely focusing on the island countries.

But we also looked at the French territories, we looked at East Timor as well as West Papua. We made a particular feature of West Papua, although, of course, there are major sections in the report that deal elsewhere with Fiji, Vanuatu, in particular, that are ongoing freedom concerns.



COUTTS: And how did the French territories rate?



ROBIE: The most interesting thing there, of course, there's been a development that's been since the report and that's the future of Tahitipresse, the state-funded sort of newsagency which is for the chop, in terms of budget cut backs and so on. But that's quite a blow, not only for Tahiti, but also the rest of the Pacific, because the bilingual Tahitipresse actually provided a very good English language service for the region and so that's really going to hamper the coverage from that part of the Pacific.



In New Caledonia, it's been more of an issue of the rearrangement of the French media laws and how that's affecting the territories. But over the past year, there are no particular major incidents involving, say individuals or threats against individuals or such incidents.

So outside West Papua, of course, Fiji remains the overriding concern for the region.



COUTTS: When you look at media freedom, what were the promises, I mean what did you declare was media freedom and that which fell below that particular bar?



ROBIE: Well, we looked at quite a range of issues, we basically looked at areas of censorship, areas of danger and threat to individual journalists, we looked at the legal frameworks affecting all the territories, the report includes a chart doing a comparative study of all the territories in the region. We looked at areas such as criminal libel; and particular legal threats that journalists may face. We looked at institutional censorship and we looked at the passage of laws, such as freedom of information.

Of course, the Cook Islands is the only Pacific Islands country that has freedom of information legislation, that came in 2009 and it hasn't been working as well as it might, but at least it's a chink or opening for the whole region. But in contrast, to say Australia, for example, where there's been a whole host of reforms and the freedom of information laws that have been generally quite beneficial or in the process of making those changes. It's been a slow process in the Pacific.



COUTTS: And also there's the accusation by Prime Minister, Julia Gillard, that she doesn't think that she's getting a fair go from one of the media outlets here. Was that something that was included?



ROBIE: Not specifically that, but we did look at quite a lot of the legal changes in Australia and we also looked at the consequences of the phone-hacking scandal in Britain, News of the World and with the inquiry that's being set up in Australia. So we looked at those sort of patterns, we looked at individual arrests and the shield laws, all of those sort of issues were canvassed in Australia.



COUTTS: And because the reason I ask you to define what you determined was media freedom was because there are some countries, some of the smaller countries that the governments have something to say if their press release aren't published. So the media outlets have to do it whether they want to or not. Does that come across the path of media freedom or lack thereof?



ROBIE: Yes, well I mean and we've particularly looked at the dangers of Fiji, particularly the censorship that takes place since the media decree was imposed and what an extremely poor model that is for the whole region and very threatening to other countries, because let's face it, we've had pressure on journalists, well ever since the 1987 coups. And politicians by and large around the Pacific don't have a high opinion of the media and have a very poor understanding of the role of the media in any country that is a democracy. So many politicians have actually looked rather with some admiration at what Fiji has done and would love to have the opportunity to do something similar. So the longer the censorship regime continues in Fiji, well, it's really a cancer on media freedom for the whole region.



COUTTS: Well, you have a vested interest, of course, recent talk where the next PINA meeting might be held in Fiji, because PNG can't host it. So I just wonder what that actually says about yourself who've been banned and kicked out, Sean Dorney, and Barbara Dreaver ? Three of the region's senior journalists won't be able to attend the meeting like that?



ROBIE: Well, I've never been banned. I've had more problems with the French authorities than the Pacific. I lived in Fiji for five years and was head of the journalism program there. But the point you're making is actually a very serious one and I think it points to a major division among journalists and in the media industry itself about the role of Fiji and how Fiji should be dealt with.

Of course, there are those who argue that the Pacific Island News Association should have got out of Fiji long ago and set up somewhere else, where it can actually operate with relative freedom. But there are others who argue that well, "Hang on, we've got more chance of actually forcing some kind of change on the regime in Fiji by actually having contact and dialogue and having a chance to actually sort of reason". And I don't think those sorts of divisions have really been resolved.

The plans for having this conference there in March, next year, I think are very fraught and a lot of dangers involved with this. It will make a mockery of such a conference if many people can't come simply because they're going to be barred by the regime.



COUTTS: Now just to wrap it up David. The 39-page report overall, what's the state of censorship across the Pacific, is it a good or bad one?



ROBIE: Well, it's a worrying one I'd say, it's a worrying one, but the report does make a comparison, I guess, and this is where West Papua is quite important. But you have to put things in context globally and when you look at countries like the Philippines, where journalists are murdered with impunity and you go back to the Mindanao massacre back in November 2009. In that sort of context, the Pacific's not too bad.

However, it needs to have a very vigilant campaign by advocacy groups and a constant watch, because essentially politicians are not very favourable to the media and they would like any opportunity to have a clamp down, so the more that this is put under the spotlight, the better.
(cc) Creative Commons